What are the components of success in the CBD industry? Quality product, positive consumer`s experience, effective marketing strategy – all those are crucial factors. But there is a common ground for all those terms – attention. Before starting to present and offer your CBD product to a customer, you have to draw attention. Remember how we were taught not to judge a candy by its wrapping? Well, it didn`t work. Wrapping is still the factor that makes us either get interested, take a closer look, or maybe even grab a candy spontaneously from a display box at a counter. Packaging has always been the most valuable factor in successful marketing. And the CBD industry, with its rapidly growing competition, is not an exception from this rule. Custom packaging might be more crucial for CBD oils, tinctures, and other CBD products, than any other goods. Let`s see why quality custom-made packaging is so essential for success.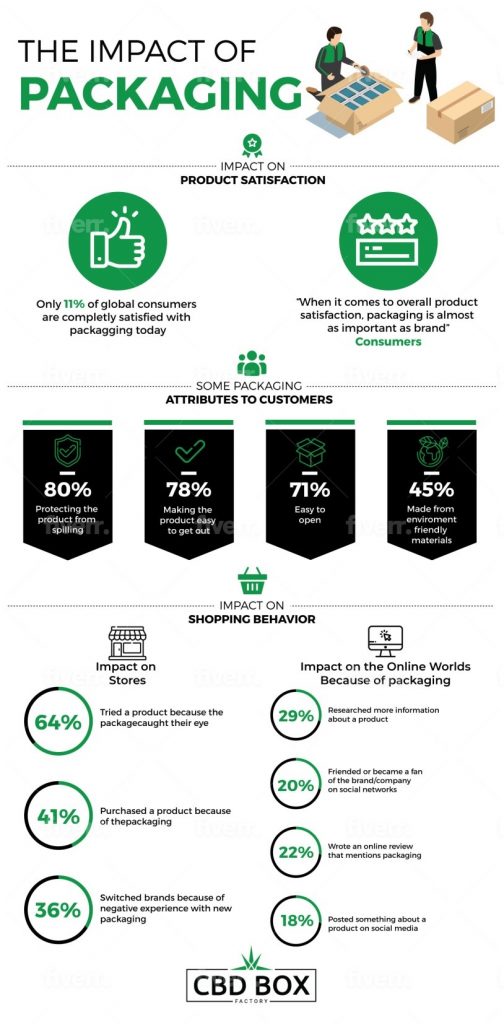 Product satisfaction
When you promote a CBD product, you have two ways to go. Either you impose a one-time purchase or count on long-term relationships with a customer. The first way might be easy and seem effective, but as vast as any market is, it has its limits, and someday your offer will prevail the demand. The long-term path requires some extra dedication, attention to detail, and forward-thinking. In other words, if you want to attract consumers, inspire them to make the second purchase, and recommend your product to friends and family, you have to work a bit harder, but the backfire will worth it. Positive consumer`s experience – satisfaction from the product – consists of numerous factors. And the packaging is among the main ones.
According to statistics, only 11% of consumers are entirely satisfied with the packaging of various products. It applies to the CBD market also. It means that at least 89% of people keep on browsing the market looking for a more suitable analog of the product they have once bought only because of the lousy package. Due to the precise attention of FDA and local authorities, the quality of most CBD products remains on the same level. It means that custom CBD packaging might be your only chance to stand out in the crowd and differ advantageously from the competitors.
To understand the importance of custom CBD packages, you should look at it from a consumer`s point. Most people claim that packaging for them is inseparable from the product itself. It means that a nicely-designed, nifty custom CBD oil box may evaluate the product itself in the eyes of the consumer. At the same time, a standard unsophisticated packaging that may also fail to preserve a product correctly will scare people off.
A package is not just a box or a container, neither for a brand nor for a customer. It has various functions and, most of the time defines whether your product will remain on the shelf for ages or may be sold-out a couple of days after the launch.
What packaging means for customers
Many CBD brands make the same mistake, thinking that custom CBD packaging is just an indulgence, as a consumer will through it away right after purchase and forget about it. Packaging has a lot of meaning and value to customers and forms the overall impression of the brand. And we all know that there won`t be a second chance to make the first impression. Let`s see what people pay attention to, and how their opinion may be manipulated with custom CBD packaging.
Product protection
You may be surprised, but 80% of consumers see a package as a factor of product protection. Quality packaging means to them that a product that they are paying for, will be perfectly preserved and arrives at them in one piece. In other words through the packaging consumers evaluate your attitude and how much you care to provide the best service. For most people, this is a decisive factor whether to continue purchasing from you or move on to more thoughtful brands.
Package utility
The package is not something a person throws away right after the purchase. CBD products such as tinctures and oils are extremely sensitive to light and extreme temperatures, therefore most people keep the box till the product runs out. 78% of consumers claim that it is very important for them that a package is easy to open and close, the product gets out easily and is perfectly secured during the whole usage period. Aesthetic factor is also important here, therefore creating custom CBD packaging you solve several issues at once.
The Eco-aspect of packaging
Modern consumers are much more responsible and environmentally-aware. And the all-natural and organic CBD industry should always be an example of environmental responsibility. Also, 45% of consumers claim that it is important for them to know that a manufacturer does not only use organic commodities in the product itself but also remains eco-friendly in the production and packaging. Only custom CBD packaging will guarantee that you know for sure how and where your packaging is made from and can position your brand as organic and eco-friendly.
What custom CBD packaging does for you
There are lots of packaging solutions nowadays and it is only up to you, whether to invest in custom CBD boxes or use standard packaging. But here are some aspects that may make you change your mind in case you think that custom CBD packaging is an unnecessary luxury.
Custom CBD packaging tailored for your containers and products precisely provides comprehensive protection of your CBD products during shipping and storing. It protects you from contingencies due to product damage
Custom CBD packaging creates the image of your brand, drawing the attention of your target auditorium
Due to various textures and dosage, CBD products require various sizes and types of packaging making you either order small lots from different package suppliers or compromise on the quality of packaging. Eventually, the custom CBD package saves you money in the long perspective.
The Impact of Custom CBD packaging
So the package is important when you want to protect your product, preserve it, and make a good impression on a consumer. But can custom CBD package inspire the purchase? Before ordering your first lot of custom packaging, it is important to understand whether you will pay attention to the utility aspect of packaging, or its aesthetics is also important.
In-store experience
CBD products remain a novelty for many customers. The market is growing so fast right now because most people still have never tried CBD and only discover this industry. Therefore raising awareness and drawing attention is crucial right now. Statistically, at least 69% of consumers say they regularly get inspired to try a new product because they are attracted by a package. With the limitless design opportunities of custom CBD packaging, you may appeal directly to your target audience, catch their attention and at least inspire to look you up on the Internet. By the way, at least 40% of consumers admit to making spontaneous purchases regularly only because they like a package even if the product itself is entirely strange to them.
Beware though! A flashy and attractive package is not enough. The packaging does not only inspire consumers but may also become a harsh disappointment factor. 36% of consumers claim that they have at some point switched brands and searched for an analog product because of negative experience with packaging. In this case, it would be wise to learn from the mistakes of your competitors and adjust your custom CBD packaging accordingly.
The role of custom packaging in the online shopping experience
Since the market is moving online, many manufacturers assume that packaging is losing its presentation feature. People hardly make any spontaneous purchases online and prefer to research products, read reviews, and listen to recommendations from family and friends.
Ironically, since shopping moved online, packaging, and especially custom packaging, obtained a new level of importance in the marketing and customer experience process. Simple statistics demonstrate that quality custom CBD packaging has more purposes in the digital era. Let`s have a brief overview of the features of custom CBD boxes and see how they may instantly boost up your online sales.
The attraction factor
Internet content is becoming more and more visual. People prefer to look at pictures and short videos to reading long texts and descriptions. Therefore the attraction factor of custom CBD packaging is as important inline as it was in the retail locations. As we said before, online purchases are mostly done based on the research of reviews and feedbacks. Statistics show that at least 29% of customers looked up a product in the Interned and eventually bought it after they were attracted by the image of the custom CBD box on social media. Almost one-third of sales are still made due to the attraction factor of custom CBD Packaging.
Build an auditorium
If you work on the online presence of your CBD brand, you understand the importance of social media in the process. Moreover, the credibility of any brand is measured by the number of active followers. It is a significant factor – your online followers and friends are your most loyal auditorium. Also, since those people have already subscribed to your updates, this is a huge advertising segment that practically does not require any additional advertising costs. In other words – they already keep the track of all the events and new releases of your CBD brand. Growing an auditorium on social media is important, but it is also quite a challenging process. And Custom CBD Packaging helps you here also. 20% of users claim that they befriend or start following a brand attracted by its packaging and presentation.
Review generator
And again – online shopping is all about reviews. Those unpackaging videos may be pretty addictive, and no doubt, they are a powerful marketing tool for any brand. Whether made by influencers or regular users, reviews determine whether people will be inspired or interested in your CBD product or decide to avoid it. 22% of reviews have comprehensive sections that describe the packaging of a product. In other words, people take packaging seriously. They consider it as a factor of attitude and care of the brand and its image. Therefore custom CBD packaging, especially described in an online review becomes an important customers experience feature.
Friendly advice
We all know that any person will buy a product more willingly if a friend recommends it. Friendly advice is more important for an average user than the most viral influencers review. Statistically, at least 18% of users create an online post if they like a package and think that its image would be a valuable addition to their feed. That is how those friendly recommendations appear. Therefore instagramable custom CBD package becomes a powerful and cost-efficient marketing tool.
As you see, the importance of quality packaging cannot be overrated. Custom CBD packaging protects CBD businesses from contingencies, helps to create an image of a brand, and serves as a powerful promotion tool. At the same time, packaging appears to be as important for consumers as the product itself to decide whether to continue relationships with a brand or keep on surfing the market.
CBD Box Factory is a packaging manufacturer that focuses on custom CBD packaging. We combine our rich experience in the packaging business with comprehensive knowledge of the CBD industry. Our custom packaging solutions don`t only help various CBD brands to deliver their goods to people in the best condition but also raise awareness of the CBD industry, state its image, and demonstrate attitude.
Contact us right now and learn about various custom CBD packaging solutions we can offer exclusively for your business. We are always ready to answer all your questions and give you an instant quote. Our flexible pricing policy allows us to make custom offers for different businesses. Contact us today to enhance your CBD business and boost sales up already tomorrow.